This is the tomato-iest chili you can imagine, and if you love tomatoes the way Rex and I do, this recipe will transport you to spicy, tomato heaven! It's thick and luscious just like tomato-bean chili, but without being cooked. Enjoy warmed or chilled for hot summer days. Perfect for picnics at the beach or park, and summer meals on the patio or deck, shared with friends and family. And if you're in the Southern Hemisphere, it's perfect warmed up for a delicious winter repast!

Make sure to have ripe heirloom tomatoes on hand before starting. This picture shows the optional raw corn—also delicious!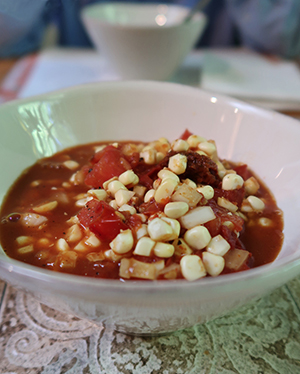 Ingredients:
6 cups heirloom tomatoes, cut into small bite sized pieced
1/3 cup sundried tomatoes—our favorite is
Jeff's Naturals Sun Ripened Dried Tomatoes
1/2 cup red bell pepper, finely chopped
1 cup water
1/4 cup Vidalia, or Walla Walla sweet onions, finely chopped
6 oil cured sundried tomatoes, diced
2 Medjool dates
2 teaspoons chili powder
1 teaspoon lemon curry powder
1 clove garlic
1 teaspoon cumin
1/2 teaspoon Jamaican spice powder
1/4 teaspoon black pepper
1 shake chipotle powder
Optional Ingredient: Fresh raw corn cut off the cob

Directions:
Put sundried tomatoes, red bell pepper, dates (pits removed), and spices into a blender with just enough water to blend until smooth. You want it to be thick.
Add in 2 cups of the heirloom tomatoes and chopped onions, and pulse several times, to make a chunky sauce.
Transfer to a warming pan.
Add remaining heirloom tomatoes, and diced oil cured sundried tomatoes, and garlic, pressed. Mix well.
Warm over heat to desired temperature.
Dish up into bowls and serve immediately, or chill for later use.

The Little Story: Summer Living

What could be easier than a simple no-cook chili, or a platter of freshly cut fruits for dinner? We love this way of eating raw foods, saving gourmet raw for special occasions. A platter of fruit needs no embellishment—no cream, honey, nuts, or other toppings. The fruit is perfect just the way it is, containing the most amazing flavors and textures. This is getting close to eating mono meals, very beneficial for the digestion.

If you've been wanting to finally go one hundred percent raw, summer is the perfect time to dive into total raw food living! Give it a try for a week, a month, and see and feel the difference. Pounds will melt away, lightness of the body will return, and feelings of brightness and well being will flood the mind and heart.

We're totally enjoying the easy days of summer, breathing deeply, and letting nature's goodness enfold us as never before—we hope you will join us! And feel free to drop a line anytime to let us know how things are going—we'd love to hear from you!